In our youth, many of us long for something in our lives that's deeper and greater than our everyday reality of work, home, sleep, repeat for 29,930 days. Maybe it's religion, or maybe a calling to help others, or maybe a belief that the world revolves around the Cubs. We don't care as much what "The It" is, as that we find The It, and explore The It. We are searching for that feeling of soul-level satisfaction.

Soul-level satisfaction exists at a biochemical level, as well as in our perceptible lives. It's your deeper drive—not the drive to fill the needs of your stomach or your muscles or even your mind, but the drive to fill the needs of your soul.

What are some of the biochemical foundations? One is likely rooted in oxytocin, a hormone that is elevated in women after childbirth. It makes you feel a sense of community and pleasure within your family, or during a religious experience, or when you have an epiphany about our existence.

Okay, so exactly what does soul-level satisfaction have to do with the fact that you just main-lined an entire can of whipped cream?A lot. For many of us, instead of addressing—or even acknowledging—this deeper longing and the restlessness you feel for never quite finding or fulfilling The It, you try to fill the emptiness with food and drink. You use a temporary fix (General Tsao's Chicken) to satisfy the permanent void caused by not satisfying your spiritual needs for soul-level satisfaction (The It). This can lead to a vicious cycle of self-medicating with food.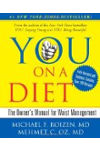 Continue Learning about Spiritual Therapies