Regardless of what motivates people to pray, there's no denying that a lot of people do it. One study shows that 36 percent of people use complementary and alternative medicine, but that number almost doubles when prayer is included in the definition. Those respondents say they use prayer for their own health and to help others. Even more telling: Of those people who said they prayed for health reasons, 70 percent said that prayer was helpful. Why? Seems like it may work through several different mechanisms:
- It relaxes: A form of meditation (no matter what your religious preferences), prayer helps to slow breathing and brain activity, and reduces heart rate and blood pressure. All relaxing, all good.
- It's positive: Let's face it. When you pray, you typically don't finish feeling like you want to rap somebody's ankles with a wooden spoon. You leave being filled with peace, joy, and other emotions that are worthy of being printed on holiday cocktail napkins. There's some evidence that these emotions lead to positive physiological responses throughout the entire body. Our stress hormone levels prepare for a peaceful existence. Perhaps more importantly, our immune system becomes less agitated so chemicals like proinflammatory cytokines, which act like kerosene on a fire, are not driving our joints and arteries to overreact to every biologic stress inside us. The result: A less inflamed, more beautiful place to live.
- It's better than nothing (i.e. the placebo effect): I'd be remiss in my reporting if I didn't say that some of the benefits derived from prayer can simply be accounted for because the person feels like it's helping, whether it's physiologically helping or not. Placebo effects have been shown to account for 70 percent of the benefit in some procedures. My stance here is that thinking you're doing something to help yourself is a big part of prayer anyway.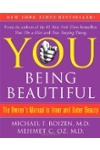 Continue Learning about Spiritual Therapies