To test for spinal rotation problems (when the spine is more or less stuck in a rotated position to the right or left), do the following:

1. Feel the paraspinal muscles (those that lie vertically on either side of the lumbar spine). Is one side smaller or thinner than the other? If so, which side?

2. Place your hands on your pelvis and hold your pelvis steady while rotating your upper body to the right. Then rotate it to the left. Which direction rotates more or has less pain?

3. Stand with hands at your sides. Now side-bend to the right, sliding your hand down your leg. Return to standing and side-bend to the left. Which side felt smoother, more natural, or had less pain?

4. Lie down on your right side for one minute. Then, lie down on your left side for one minute. Is it more painful or less comfortable to lie on one side than the other?

Answers to these questions are fairly obvious. If the majority of the answers indicate asymmetry, then chances are you have a rotation problem.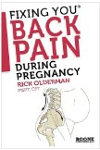 Continue Learning about Spine