Although anatomy and biomechanics of the spine can be very complex, I like to use a simple system that describes function. Doing so distills anatomical complexity down to four basic movements the spine needs to perform well in order to be pain free. Essentially, the spine must:
Bend or flex forward. For example, while bending down to pick something up from the floor, your spine should flex or bend. When you bend forward while standing, your pelvis should contribute by flexing forward as well. Essentially, the pelvis should gradually flex forward during trunk flexion. If the pelvis flexes forward too much or too quickly (as it does when an anterior pelvic tilt is present), the spine will remain in extension. This is the essence of extension problems. If the pelvis flexes forward too little or too slowly (as it does with a posterior pelvic tilt or in someone whose pelvis doesn't flex forward well), the back must flex excessively. This describes the scenario creating flexion problems.
Arch or extend backward. For example, the spine must extend when returning from a flexed position and to reach overhead. Essentially, the pelvis should move slightly into a posterior pelvic tilt before and while you straighten up, allowing the spine to remain slightly flexed and reducing pain in people with extension problems. The opposite is true for someone with a flexion problem: To keep the spine in more extension and reduce pain, try to keep the pelvis in an anterior pelvic tilt.
Side-bend to either side. For instance, your spine side-bends when you are sitting at a desk and bending down sideways to reach into a drawer for a file.
Rotate to either side. Rotation of the spine is coupled with side-bending, so whenever side-bending takes place, so does rotation to the opposite direction. For instance, if we side-bend to the left side, our vertebrae rotate to the right side. Spinal rotation occurs during most (if not all) sports, and when we drive, sit at a desk, or roll over when sleeping. If your daily routines require side-bending and rotation to the same side, day after day, then your spine will gradually adopt this.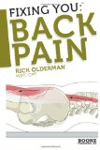 Continue Learning about Spine