The spinal tap is a routine diagnostic test that was first performed in 1891. From its beginning, the spinal tap has been the target of a lot of bad press. In reality a spinal tap is a simple, relatively painless procedure done in a doctor's office, an outpatient clinic or a hospital. After Novocain is administered to the lower back, a needle is inserted and spinal fluid withdrawn. This is done well below where the spinal cord ends, so there is no danger. It is no more traumatic than having blood drawn. But in spite of its benign nature, the average person still views the spinal tap as the one test to fear. This is unfortunate, since various tests on spinal fluid have been very valuable in helping to diagnose multiple sclerosis (MS).
IgG (immunoglobulin G) is the substance that represents increased antibody formation. An elevated level in the spinal fluid suggests the presence of an autoimmune phenomenon. Another type of immune abnormality, the oligoclonal band (OB), has been picked up in the spinal fluid of as many as 90 percent of MS patients. A third abnormal finding is the presence of a breakdown product of myelin called myelin basic protein (MBP). Until the MRI, identifying these through a spinal tap was as close as it was possible to get to a diagnostic test for MS. But increased IgG can also be seen in other diseases such as encephalitis, lupus, meningitis, and Guillain-Barre syndrome. Oligoclonal bands and myelin basic protein can also be found in other demyelinating diseases besides MS.
Today many neurologists do not feel that these laboratory tests are necessarily the best way to confirm an MS diagnosis. Still, a spinal tap may be necessary if problems other than MS are also suspected, such as an infection in the central nervous system.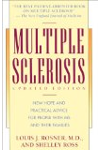 More About this Book
Multiple Sclerosis
Too often, multiple sclerosis is thought of only as "the crippler of young adults." But in fact, 75 percent of all people with MS will never need a wheelchair. In Multiple Sclerosis, Dr. Louis J....
A spinal tap (or lumbar puncture) is a major diagnostic tool sometimes used to confirm a diagnosis of multiple sclerosis (MS). This test analyzes the cerebrospinal fluid that surrounds the brain and spinal cord. The presence of oligoclonal bands (proteins that suggest inflammation of the central nervous system [CNS]) is highly specific and useful for early detection of multiple sclerosis (MS).
When we do the spinal tap, we analyze the CSF and measure its protein, glucose and cell count. We also do a "MS Panel" which is a set of tests that simultaneously measure and compare the CSF and serum protein levels and immune system activity. In cases of MS, positive findings include oligoclonal bands in the CSF only and an elevated immunoglobulin G (IgG) index. An elevated IgG index, which indicates increased production of IgG within the central nervous system, is found in about 90 percent of MS cases.
Continue Learning about Spinal Tap