The energetic anatomy has five basic components:
1. The chakras, the body's power centers or transformers that take in and distribute prana.
2. The meridians, the body's energy channels that transfer prana to and from the chakras and nearby organs and parts of the body.
3. The inner aura, an inner shell of prana that begins inside the body and extends about 5 inches out from the body in a healthy adult.
4. The outer aura, an outer shell of prana that also begins inside the body and extends up to several feet beyond the inner aura in a healthy adult. The outer aura holds in the body's energy.
5. The health aura, an aggregation of 2-foot-long rays or beams that radiate from the body's pores. In a healthy person, these health rays are straight and well defined, but in a sick person they are crooked or droopy.
These auras are concentric, much like the layers of an onion, with the three auras nesting inside one another.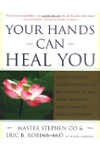 Continue Learning about Specific Mind-Body Treatments