You may sit or stand for this exercise. Perform your standard warm-up, except you don't have a subject to query about any existing health problems. Then proceed.
1. Establish a quick energetic baseline for yourself. Note the relative shape and strength of your aura, as well as any areas of congestion or depletion.
2. If necessary, reestablish your intent by silently declaring to yourself that you intend to sweep and clean away the dirty prana from your energy body.
3. Visualize yourself about 2 to 3 feet in front of you, using your preferred technique. Remember you can increase identification with the visualization by saying your name three times. Remember to keep your tongue on the roof of your mouth and continue with pranic breathing as you sweep.
4. With your hands in the slightly cupped general sweeping position and with the forefingers and inside edge of your hands touching, aim your fingers slightly above the head of your visualized body.
5. Imagine beams of white light emanating from your fingers and penetrating an inch or two into your visualized body.
6. Follow the sequence used in general sweeping of another person on this visualization of yourself.
7. After every two sweeps, spray your hands with alcohol.
8. After you complete sweeping the front of your visualized figure, turn it around and sweep the back.
9. After you complete the back, rescan your aura. Note if it seems more balanced now. Note, also, if you feel lighter, more relaxed, or more refreshed.
10. Conclude the exercise by shaking your hands and spraying them with alcohol again. Take a few pranic breaths and relax.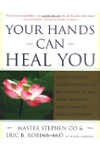 Continue Learning about Specific Mind-Body Treatments