For this exercise, you'll need a 26-ounce container of table salt. It doesn't make any difference energetically if the salt has iodine in it ("iodized") or not ("plain"). But it should be regular salt and not Epsom salts, which do not have the same cleansing ability.
Draw a tub full of warm water and pour the entire container of salt into the water. Soak in the bath for 15 to 20 minutes. Sink down into the water so that your body is completely submerged up to your chin. If you sit up in the tub and read while taking this bath, your upper body chakras will not be cleansed.
After you are finished, take a regular shower with soap and shampoo.
You will emerge feeling calm, light, and refreshed. You may also experience heightened sexual desire afterward. A salt bath thoroughly cleanses the sex and basic chakras, which frequently get contaminated during the day, particularly if your job involves a lot of sitting.
How frequently you take a salt bath depends on how contaminated you get. If you work in a stressful, energetically dirty environment (indoors, with little fresh air and light, and under fluorescent lights) or with sick or contaminated people (in a hospital), you may need to take a salt bath more frequently than others. In general, though, twice a week is sufficient.
If you wish to make your bath even more cleansing, add up to 10 drops of lavender oil. Lavender contains blue-violet prana, and when added to a salt bath, makes for an even more effective and pleasantly fragrant bath. For a variation that has even greater cleansing ability as well as a different fragrance, add up to 10 drops of tea tree oil or eucalyptus oil to your salt bath. Tea tree oil has green and eucalyptus orange prana; both have a powerful cleansing effect.
(Note: Do not combine two of these three oils and especially do not combine all three. Mixing them will pull out too much energy, even clean energy.)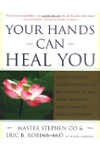 Continue Learning about Specific Mind-Body Treatments