Having a dog usually gets people out walking in places they may not have walked before such as a park. While on your walk, you will almost always encounter someone else along the way. Invariably they will inquire as to the breed, comment on "how cute" your dog is, ask his or her name, etc. This provides the opportunity to continue the conversation and start to become more at ease talking to people. Having a dog is a great way to increase your sphere of social interactions. In a study at the University of Warwick in the United Kingdom, psychologists monitored the number of social interactions in people if they were alone or accompanied by a dog. People in the study were paired up with guide dogs trained to be inconspicuous and to avoid soliciting attention from others. People were encouraged to include dogs with their daily routine, such as taking their children to school, going to work at a university that permitted dogs, and riding public transportation. When a dog accompanied the person, there were over three times as many social encounters during these routine activities as when the person's routine was conducted with no dog. People had one-third more encounters with friends when they had a dog, with over twice as many encounters with acquaintances and over twenty times more encounters with strangers. Just having a dog at your side, therefore, widens your sphere of these important social interactions.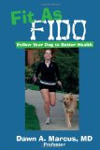 More About this Book
Fit As Fido: Follow Your Dog to Better Health
Let your dog teach you to live a happier, healthier, and more fulfilling life! Companionship with your pet can be used as a means and a motivator to increase your own physical and mental fitness....
Continue Learning about Social Anxiety Disorders