Sleep disorders are very common. About one-third of adults suffer from insomnia at one time or another, and more than 10% have it on a regular basis. There are more than 100 different sleeping and waking disorders.
Sleep problems affect 70 percent of Americans, up from 60 percent in 1990. A sleep disorder is defined as having a problem sleeping or not feeling rested at least a few nights per week. And that's enough to chip away at your health—and longevity. The good thing, however, is that 50 percent of people with sleep disorders can be helped by simple behavioral changes that you make by yourself—to your bed, to your body, and to your life.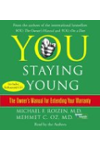 If you have problems getting your quota of shut-eye, you have plenty of company. According to the National Commission on Sleep Disorders Research, as many as 40 million Americans suffer from chronic sleep disorders, and another 20-30 million intermittently experience sleep problems. These numbers could double in a few years since sleep disorders increase with age, and our population is getting older quickly.
Continue Learning about Sleep Disorders