As adults, we tend to lose rapid eye movement (REM) sleep. Younger adults spend half of their sleep in the lighter Stage 2 sleep and only 20 percent in REM sleep. As we age, lighter sleep occurs more and REM sleep occurs less and less. This may be part of the reason that older adults will wake up more frequently - they're spending more and more time in lighter stages of sleep that are easier to be aroused out of.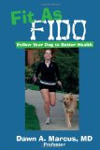 More About this Book
Fit As Fido: Follow Your Dog to Better Health
Let your dog teach you to live a happier, healthier, and more fulfilling life! Companionship with your pet can be used as a means and a motivator to increase your own physical and mental fitness....
Continue Learning about Sleep Basics