Nicotine can affect sleep. Epidemiologists at Johns Hopkins Medical Center compared sleep patterns in smokers and non-smokers. Smokers took longer to fall asleep and experienced less total sleep time than non-smokers. In addition, smokers spent more of their sleep time in the lightest sleep (Stage 1 sleep). These changes in sleep pattern may be an important cause of sleep disturbances among smokers.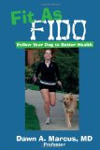 More About this Book
Fit As Fido: Follow Your Dog to Better Health
Let your dog teach you to live a happier, healthier, and more fulfilling life! Companionship with your pet can be used as a means and a motivator to increase your own physical and mental fitness....
Tobacco contains nicotine, which acts as a stimulant, like caffeine. So although you may get an immediate relaxation feeling from smoking or chewing tobacco, it really charges you up and makes it difficult to sleep. Talk to your doctor about quitting smoking to help you get a good night's sleep.

If you've quit smoking but are using a nicotine supplement, like a patch or inhaler, the nicotine may be keeping you up at night. Talk to your doctor about your situation.
Continue Learning about Sleep Basics