If you have a skin rash, call or go to the doctor or clinic for:
Rash, spots, blisters, or strange coloring in an infant 3 months or younger
Diaper rash that does not get better in 3 days, even though you've tried prevention tips (change diapers more often and wipe with plain water, not scented wipes; let your baby go without a diaper as much as possible; use diaper cream)
Diaper rash that goes beyond the diaper area
Rash with a fever
Rash that looks infected (painful, red, may be leaking fluid)
Rash with mouth sores
Rash that is painful and on one side of the body or face
Rash that is very uncomfortable or painful
Acne that is leaving scars
Any rash that isn't getting better
Continue Learning about Skin Disorders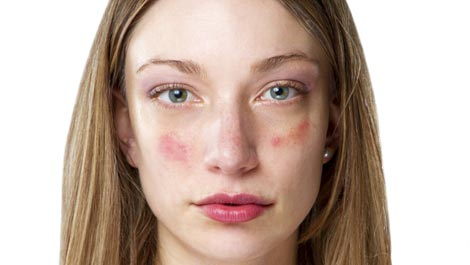 Skin disorders affect people of all ages. Rashes, cysts, breakouts, redness and blisters all can be symptoms of conditions as varied as hives, rosacea, psoriasis, eczema and acne. Talk to your doctor or a dermatologist about any l...
asting symptoms to find the appropriate treatment. A doctor also can recommend the proper therapy for conditions like brown spots, spider veins, and fungal infections.
More