Pseudofolliculitis barbae, or "razor bumps," results from the close shaving of curly beards. Black-skinned males are particularly affected by this condition, which happens when sharp-pointed hairs from close shaving curve into the skin and cause red, sore bumps. These bumps in some cases can result in scarring, infection and the formation of keloids. Keloids are raised overgrowths of scar tissue that occur at the site of a skin injury.

Prevention

The best way to prevent razor bumps is to not shave or to avoid close shaving, but these options are not always available or desirable. It is important not to pull the skin tight while shaving. Also, shave with the hairs, not against them. Electric razors can be helpful since they do not shave as close as a regular razor.

Treatment

A mild topical steroid cream can help relieve irritation. A benzoyl peroxide wash can be helpful in some cases. Apply it, and then wash it off. If it dries the skin too much, stop using it. If it causes irritation, stop using it. Rinse well after applying it, because benzoyl peroxide can also bleach your hair. And keep it away from your clothing and the wash. It can bleach your clothing.

If the problem persists, see a doctor to find the best treatment. In some cases, certain prescription acne medications have been found helpful. And topical or oral antibiotics may be necessary if infection has occurred.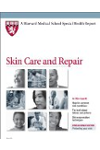 More About this Book
Harvard Medical School Skin Care and Repair
Where can you get authorotative advice on skin care? There's plenty of advice out there on TV, the internet and in the aisles of stores peddling skin care products. Despite the abundance of products...
Continue Learning about Skin Disorders