There is no cure for vitiligo at this time. Doctors use topical ointments, light therapy, and even surgery to treat vitiligo -- but there is no vitiligo cure. Your doctor may give you lifestyle tips to self-manage this skin disorder, including the use of sunscreen with a sun protection factor (SPF) higher than 30, avoiding the midday sun, and keeping the depigmented skin patches covered when you are outside. Also, your doctor may recommend treatments such as ultraviolet B (UVB) light to repigment the white patches of skin. Sometimes lasers are used on vitiligo patches on the face. Ultraviolet A (UVA) light is used along with medications to repigment the skin. This treatment has some success but is not a cure. Some doctors recommend removing all pigment from the skin, a permanent treatment that allows the person to have one skin color without "patches" of white skin. Surgery or skin grafting may be effective for people who have vitiligo on segments of the body.
There is no cure for vitiligo currently, but scientists are working on genetic research that may one day provide a cure. Since it appears that there is a genetic link to developing vitiligo, scientists are analyzing these linked genes. A mouse model is increasing scientific knowledge of vitiligo. A last area of study involves the white patches caused by vitiligo. Researchers are looking at how these patches grow and spread, as well as what can be done to prevent their development.
Although there is no cure for vitiligo, there are several treatments available for skin patches, as well as eye care; you should discuss these with your doctor.
Continue Learning about Skin Disorders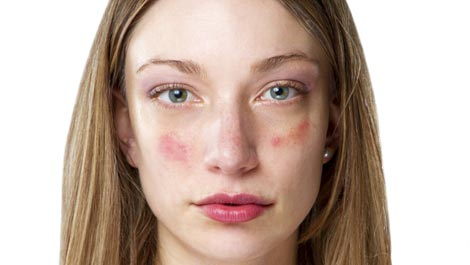 Skin disorders affect people of all ages. Rashes, cysts, breakouts, redness and blisters all can be symptoms of conditions as varied as hives, rosacea, psoriasis, eczema and acne. Talk to your doctor or a dermatologist about any l...
asting symptoms to find the appropriate treatment. A doctor also can recommend the proper therapy for conditions like brown spots, spider veins, and fungal infections.
More