Chapped lips can be treated by using a lubricating lip balm with SPF to protect the lips. This should be reapplied as often as necessary. A humidifier may also help, along with keeping well hydrated. Try to avoid licking your lips as this will dry out the lips even more.
Cold air, reduced humidity and windy weather quickly leave the thin lip mucosa with deep cracks, so treatment needs to happen from below the surface rather than merely sitting on top like a blanket. Once lips are dry and chapped, heavy emollients are necessary to heal and repair the damage.

Simple emollients in squeeze tubes or pots can work wonders to not only prevent problems but fix them, too. Once lips are chapped, the more often the moisturizer is applied, the faster the healing process can take place.

Look for ointment-based products containing ingredients such as shea butter, lanolin and vitamin E. Agents such as beeswax and dimethicone, a skin protectant, are often also found in ointment bases. They work to create a barrier against dehydration while the moisturizing ingredients work to fix the chapping. Additives commonly found in lip care products may make chapped lips worse. So while you may enjoy the tingly sensation imparted by menthol, camphor, eucalyptus or cinnamon, avoidance is key for rapid healing.
Continue Learning about Skin Disorders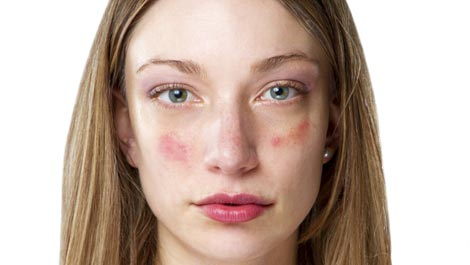 Skin disorders affect people of all ages. Rashes, cysts, breakouts, redness and blisters all can be symptoms of conditions as varied as hives, rosacea, psoriasis, eczema and acne. Talk to your doctor or a dermatologist about any l...
asting symptoms to find the appropriate treatment. A doctor also can recommend the proper therapy for conditions like brown spots, spider veins, and fungal infections.
More