Excessive sweating can be due to many things, including exercise, hot weather, certain medical conditions, medications, and stress.

"Hyperhidrosis" is sweating in excess of what is normally required to control body temperature. With hyperhidrosis, nerves that affect the sweat glands are often overactive.

This condition can cause excess sweat on the entire body or just certain parts, such as the palms, soles of the feet, armpits, or other areas. There are many sweat glands on the palms and soles, which is why these areas often sweat a lot. Hyperhidrosis can interfere with daily activities, causing embarrassment and difficulty performing certain tasks.

Antiperspirants such as Certain-Dri or Mitchum's Unscented Roll on Antiperspirant can be helpful. A prescription-strength antiperspirant such as Drysol can be applied several times a week to dry palms, soles, or underarms.

If excessive sweating continues, here are some other options.

Iontophoresis is a process that requires a machine. You immerse the sweaty area in water or a solution each day for 15 to 20 minutes while a low electrical current runs across the skin's surface. This may cause skin irritation and it does not always work.

Certain medications ("anticholinergic drugs") can reduce sweating, but they can also cause dry mouth, blurred vision, dizziness, and other problems.

Surgeons can remove sweat glands or destroy the nerves ("sympathectomy") of certain sweat glands. But this causes scarring and is irreversible.

Injections of botulinum toxin have become popular to control excess sweating of the palms, soles, and armpits. The toxin temporarily blocks chemical signals from the nerves that stimulate the sweat glands. This reduces excessive sweating for 3 to 6 months. Talk to your doctor about potential side effects before seeking treatment.

See your doctor about your excess sweating. He or she can try to find out what's causing it. Then you can talk about all the treatment options and the possible side effects of each.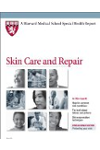 More About this Book
Harvard Medical School Skin Care and Repair
Where can you get authorotative advice on skin care? There's plenty of advice out there on TV, the internet and in the aisles of stores peddling skin care products. Despite the abundance of products...
Continue Learning about Skin Disorders