It is important to cleanse your skin every night to remove make-up, impurities, dead skin cells, and excess oil. But a morning cleansing is also beneficial, as it removes any toxins the skin eliminates during the night and refreshes the skin, preparing it for make-up application.

For the removal of eye make-up, especially waterproof mascara, there are particular products specifically formulated for the eye area. However, some gentle facial cleansers can effectively remove all make-up, eye, and facial, as well as cleanse the skin. For the general or "all-in-one" cleansers, be sure that they are fragrance- and color-free to avoid irritating the eye area. If you do not need to remove eye make-up, select a skin specific cleanser. For instance, use an oil free cleanser for oily skin, and a milky or creamy cleanser for drier skin types.

The original use of a toner is to return the skin's pH back to normal. It is also useful to complete the cleansing process, as it will remove any last traces of make-up and cleanser residue. Some toners have very beneficial ingredients that help certain skin conditions. As an example, ethanol will help with excess oil, whereas lactic acid or other alpha-hydroxy acid (AHA) will help exfoliate and smooth the skin's texture.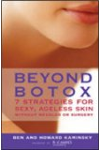 Continue Learning about Skin Cleansing