The gold-standard in vitro test used to assess an ingredient's absorption through the skin is the Franz diffusion method. Scientists worldwide (including the ones at big beauty companies) utilize this technique all the time. I spoke at length with the inventor himself, Dr. Thomas Franz, who explained how his device works to measure the permeation of an ingredient. An assay (donor skin harvested from cadavers or animal tissue) is stretched across a water bath; then a medication or chemical solution is placed on the skin surface. The water in the chamber below is tested at specific time increments to gauge the percentage of chemical that has penetrated through the tissue into the reservoir. The limitation of this method is that the skin assay is not living, so it's impossible to see how an ingredient would react on the real thing. The electrical charges and chemical reactions of dynamic tissue are not in play because living cells are not functioning and their innate defense mechanisms aren't in action.
Cosmetic researchers also use an in vivo test called skin topography analysis. This employs silicon imprints of the skin to measure wrinkle depth before and after applying a product. A gelatinous slab of silicon is pressed onto an area of skin before using a product; then a separate sheet tests the area after the product has been on the skin for various time increments (after one hour, one day, then one week). The silicon impressions are compared and the depth of the wrinkles is analyzed.
This is an old technology but commonly used today because it's a safe test on human skin - even though it doesn't prove much. If the silicon sheet shows that there are fewer lines on the skin's surface (translation: "reduces the appearance of fine lines"), it is actually because crevices are being filled in by the product itself, rather than the ingredients' effecting a real change in the dermis. Other in vivo experiments use tape stripping (repeatedly ripping off tape from the surface layers of skin) to test how much of an ingredient absorbed into the stratum corneum. As interesting as the findings might be, these tests don"t go deep enough, literally, to provide the scientific findings that a skin biopsy might reveal.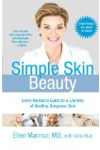 Continue Learning about Skin Cleansing Products