Almost every woman has cellulite -- and almost every woman has tried and failed to get rid of it. In this video, Dr. Oz reveals some affordable remedies that really work.
I don't have an issue with cellulite, but if you do, it seems that some massage therapies can help change the appearance temporarily (and I mean temporarily, hurry up and snap that picture), but no creams, gels, or other easy solutions have even been shown to assist. More invasive procedures (like body lifts) can help, but you have to ask yourself whether the treatment is really worth the problem.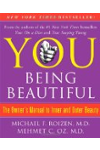 Continue Learning about Skin Care

Blueberries, dark chocolate and sunscreen are three things you need to keep skin beautiful, supple and smooth. Antioxidant-rich foods such as berries, dark chocolate, cantaloupe, citrus fruits and leafy greens provide the vitamins ...
you need for skins elasticity. Avoiding smoking prevents premature aging. But the number-one way to keep skin gorgeous is to stay out of the sun and away from tanning beds. The suns radiation causes skin damage, including wrinkles, age spots and skin cancer. Use a sunscreen that protects against UVA and UVB rays in an SPF of 15 or higher, and reapply often.
More