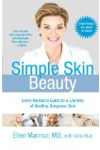 As a woman begins to go through menopause, her hormone levels begin a steep drop-off. Sweating through hot flashes and dryness are the top skin complaints during this time, because estrogen and progesterone aren't telling the sebaceous glands to pump out as much oil. Lower levels of these hormones also diminish angiogenesis, or the growth of new blood vessels, which can also contribute to a dull complexion. These intense hormone imbalances can also trigger dilation of the blood vessels on the surface of the skin, which creates a spike in temperature and temporarily flushed and clammy skin (otherwise known as a "hot flash"). It's similar to a stress response surge of blood to the surface of the skin. Basically, the communication of some of these hormonal messengers has slowed to a crawl, so many of their functions aren't sparked off.

Science has proven that declining estrogen levels are associated with skin changes such as dryness, poor wound healing, decreased skin laxity and collagen content, and epidermal thinning and increased transepidermal water loss (diminished moisture on the surface of the skin).

Medical studies are evaluating the effects of hormone replacement therapy (HRT) on these skin changes, and some results show that HRT (which provides a low dose of estrogen and progesterone) increases sebum secretion and seems to be associated with beneficial effects on skin collagen levels and skin thickness. Estrogen also appears to increase mucopolysaccharide and hyaluronic acid levels in the skin, which maintain skin hydration.

Although HRT may be helpful for some, it's still a controversial solution for many of us. It's indicated only if you are symptomatic, meaning suffering from bone loss or severe hot flashes or dry skin. And it's definitely a subject to discuss with your doctor.