Relaxation. The anus is composed of two sphincters of muscle. The outer sphincter is under conscious control, and the inner one is not. The inner sphincter will clench when you feel stressed or anxious or threatened in any way, and it will take the outer muscle with it. This is why relaxation is so important.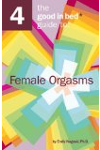 More About this Book
The Good in Bed Guide to Female Orgasms
Want to learn how to achieve 487 different kinds of orgasms?If so, you're reading the wrong guidebook. Despite what many in the media would have you believe, there's no such thing as a rainbow...
Continue Learning about Sex and Relationships