In reality, sex is one of life's driving biological forces and-at least anthropologically-why men are consumed with sex. We eat; we seek shelter; we procreate. From the most basic metabolic level, that's why we exist, and evolution commands us to do so.

Think about this: After we pass prime procreation age-somewhere around 35-we start experiencing the majority of age-related changes in our bodies that make us susceptible to disease. In essence, once the world gets what it needs from you (offspring), it's ready to inflict the mechanisms that discard you. You're finished procreating. Your job's done. Thank you. Commence gradual artery clogging. Game over.

Okay, so biology isn't that harsh, but from an evolutionary standpoint, your genetic value is equated with your ability to procreate. Of course, as humans, we know differently-that we value each other socially, spiritually, morally, and emotionally, and we value the more mature members of society to guide the species to make smarter decisions.

So even if we don't personally add more kids, we do help keep kids alive and functional. What's that mean to you? After 35 or so, your genes no longer protect you. It's up to you to protect yourself. But that reality doesn't mean that sex has to stop as you get older (take Sun City, Arizona, for instance, where at least a dozen cases of seniors having sex in public places were reported recently).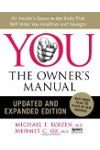 Continue Learning about Sex and Relationships