Drugs like Viagra, Cialis, and Levitra can improve your ability to achieve and maintain your erection (though they're not foolproof). There are also other medications (90 percent effective) that can be injected directly into the shaft of your penis, but this can be painful and cause scarring. Beyond this, you could also get a testosterone boost from patches, creams, or injections. Talk to your doctor about your options.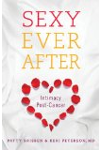 More About this Book
Sexy Ever After: Intimacy Post-Cancer
Recent studies show that 40-100 percent of men and women who have been treated for cancer have experienced some level of sexual dysfunction. Sexy Ever After: Intimacy Post-Cancer will help you...
Continue Learning about Sex and Relationships