You should always use lube during sex (partnered or solo). Lubricants don't just help remedy dryness and discomfort; they vastly enhance the sensations of intercourse and other types of sexual play, including self-stimulation.

According to a nationally represented study by Indiana University concerning lubricant use, nearly 70 percent of women described sexual activity with a lubricant as "very satisfying" and "very pleasurable." And most women who used lubricants found that they made sexual activity more comfortable and pleasurable.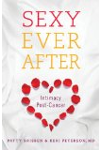 More About this Book
Sexy Ever After: Intimacy Post-Cancer
Recent studies show that 40-100 percent of men and women who have been treated for cancer have experienced some level of sexual dysfunction. Sexy Ever After: Intimacy Post-Cancer will help you...
Lubricants can be very beneficial for women who have issues with lubrication and painful sex, and there are many types available. In this video, I will discuss how and why lubricants are helpful.
Continue Learning about Sex and Relationships