You may not have complete control over the days you have sex, but you can certainly change what you do. Inject some variety: Get out of the bedroom (or at least out of the bed) and re-christen some other rooms in your house. Try getting busy in the morning or meeting for a lunchtime rendezvous. Make sex part of a date day or date night. Call in sick and play hooky together.
Take things a step further and add a little role-playing. Think about it: Can you remember the time you first locked eyes, or spotted him through the crowd? Can you remember the approach, the thrill of the chase, and the pleasure of seduction? Can you remember those heady early days whenjust a light brush of skin sent lightning rushing through your body? When was the last time you felt that way?
Bring those days back by pretending you're strangers for a night. You may want to embody a whole new sexual persona to make the role-playing more lifelike. Try a new look that feels decidedly notyou. Then head out - separately - to a previously agreed-upon pickup spot. As you make your way to the rendezvous point, pay attention to how your new persona makes you feel. Sexier? More aggressive?More demure? Allow yourself to be swept up in this feeling. Let the anonymity of your assumed identity infuse you with a new bold­ness as you makeeyes at your partner from across the room.
Next, approach your partner, exchange fake names, and begin chatting - and flirting. Tease each other with subtle forms of touch. Put a hand around her waist. Lightly brush his knee, or place a hand on his shoulder as you laugh flirtatiously. Put some effort into publicly seducing your partner. As the night draws to a close, imagine that - unless you make a move - this could be the last time you see this enchanting specimen. Invite your partner back to your place, or pull them into the restroom for a clandestine quickie. How did it feel to fall in love (and lust) all over again?
However you spice things up, don't feel forced to limit yourselves to your fertile days: Although some people believe that they should "save" the man's ejaculate un­til ovulation, that's a myth. In fact, storing up sperm can decreaseits motility. So enjoy sex whenever - and wherever - you want it, not just when you're most fertile.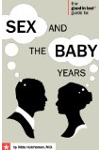 More About this Book
The Good in Bed Guide to Sex and the Baby Years
Available at a substantial discount for a limited time only, thanks to support from K-Y(R) Brand!Once you get down to the business of baby-making, the advice will pour in: books, magazines, in-laws,...
Continue Learning about Sex and Relationships