Some studies found that sexual satisfaction became a predictor for the onset of cardiovascular disease: Both men and women who were less satisfied with their sex lives were more likely to have premature aging of the arteries. Although the early studies provided thought-provoking insights, they unfortunately failed to provide accurate data. They did not control for confounding factors and failed to consider underlying physiologic factors.

The Caerphilly, South Wales, study suggests that men who have sex considerably more than the average once a week -- over two orgasms a week -- have lower death rates (from all causes combined). In RealAge (physiologic age) terms, they stay younger longer. The results suggested that there might be a relationship: The more sex a person has, the less aging he or she will undergo. Again, this study is preliminary, identifying only a correlation between sex and longevity and not a cause-and-effect relationship. Unfortunately, the study also takes into consideration only men and not women. In addition, the study just asked about orgasms, so we do not know if a mutually monogamous partner was involved. We do not have data from other studies to know whether masturbation is a benefit for those who do not have partners. Nevertheless, the Caerphilly study from Great Britain is the largest and strongest proof we have that quantity of sex for men can actually help men get younger, and stay younger. If the numbers from this study prove to be correct, we can say that having sex twice a week (twice the national average) can make a person's RealAge 1.6 years younger. If we extrapolate linearly, as the early evidence suggests that we can do, the person who has sex almost every day (350 times a year) and is happy with his or her sex life could have a RealAge as much as eight years younger.

It's always surprising to me when I look at these studies on sexual happiness and quantity of orgasms to find that an increase in quality for women and quantity for men reduces all three causes of age-related disease. Why should more sex, or higher-quality sex, decrease accidents, and why should it decrease immune aging? It seems that great sex should relieve stress and decrease cardiovascular aging, but maybe it's companionship or satisfaction with life or the lack of stress that decreases all three major categories of age-related disease.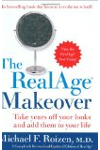 Continue Learning about Sex and Relationships