Don't just have sex (sometimes/once every other month/when there's a full moon/when your partner begs on their hands and knees). Have it regularly. Put it into your calendar if you have to, as contrived as it might seem. Having sex regularly will rev up your sex drive. How? Having sex increases the production of testosterone in your system, and testosterone is the hormone that's most responsible for your libido levels.

Soon enough, if you stick to your schedule, sex won't feel contrived anymore. Rather, you'll want it (all the time, you naughty minx).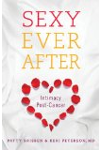 More About this Book
Sexy Ever After: Intimacy Post-Cancer
Recent studies show that 40-100 percent of men and women who have been treated for cancer have experienced some level of sexual dysfunction. Sexy Ever After: Intimacy Post-Cancer will help you...
Continue Learning about Sex and Relationships