If you've been in a sexual rut lately, have a chat with your partner about what's been holding you back from feeling sexy, what you miss about your intimate life together, and what you've been daydreaming about that really turns you on. Tell your partner about how you touched yourself, and how good it felt. Swap stories of sexual fantasies.

If you're having trouble getting the conversation going, try journaling first. Engaging in some free writing -- about what you've experienced, how it's affected your life both in and out of the bedroom, and how you want things to change -- can help you clarify and eventually verbalize the thoughts that have been swirling around your head.

Or you can turn the conversation into a game. One we like to play is To Tell the Truth. It's similar to the game Two Truths and a Lie, in which players present to a group of people two true things they've done in the past, plus one outrageous lie. The more difficult it is to distinguish between the truths and the lie, the more fun it is! In this case, however, you're only sharing with your partner, and the point is to be more open about your sexual desires, and about what you've been feeling lately.

You could also play a sexy game of Truth or Dare, or pick up an actual, sex-specific board game, to facilitate your discussion. Once you get going, talking can easily lead to doing.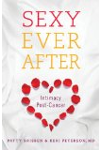 More About this Book
Sexy Ever After: Intimacy Post-Cancer
Recent studies show that 40-100 percent of men and women who have been treated for cancer have experienced some level of sexual dysfunction. Sexy Ever After: Intimacy Post-Cancer will help you...
According to reports, more than 40 million Americans are stuck in a sex rut, and more than 52% of us are dissatisfied with our sex lives. It's easy to get stuck in a rut when you're in a long-term relationship. After all, for most of us, the most exciting part of a relationship is at the beginning, when we're falling in love. It's a time filled with newness and possibility, hot and heavy flirtation, and even hotter and heavier sex. But, after being with someone for a while, things can understandably get boring.

I advise couples to try to have sex at least once a week. But it's not just quantity that matters, it's also quality. Sex is like exercise -- you have to work all of your muscle groups to get a good workout. Similarly, there are different types of sex: There's sex that's loving and tender, and which enhances emotional intimacy, and then there's sex for the sake of sex; you have it because it feels good and relieves stress. There's also sex that taps the power of fantasy and proves that the mind is our biggest sex organ, and there's sex that plays to all of our various senses: sight, sound, smell, touch and taste. Give yourself a sex workout at least once a week.
Continue Learning about Sex and Relationships