Both men and women might find themselves taking longer to become aroused or losing interest in sex as they age. With men, decreased testosterone levels can increase moodiness, irritability, and depression. For women, menopause may reduce libido and affect lubrication, arousal, and orgasm. Even so, many couples find that a healthy lifestyle combats some of these changes and helps make their sex lives more intense and intimate.
The issue of sex and aging is one that is not often spoken about due to the taboo that society has placed on "old people having sex". However, it is very common for both women and men to go through changes with their bodies, caused by aging, which affect their sex life. For example, women going through menopause tend to experience vary degrees of vaginal dryness and even a decrease is sex drive. As women age the symptoms may persist and even worsen. However, lubricants are recommended to provide a temporary relief. On a more extreme and permanent level, hormone therapy can also be recommended in order to help with the vaginal dryness. Similarly, men will experience changes with their sexual organs as well. Some of the most common complaints from aging men are a lack of sex drive, erectile dysfunction and even premature ejaculation. Modern medicine has made it easy for men to deal with these issues and restore a normal sex life. Some of the most commonly prescribed medications include Viagra and most recently Cialis. If you feel that any of these symptoms may be affecting your sex life please see your doctor as they can easily be dealt with.
The loss of a partner is a major blow to anyone's sexuality. And 60% of women -- many of whom will see a slightly older husband die at a slightly younger age (if they haven't divorced already) -- will be alone at some point in their lives. But both research and anecdotal reports suggest that increasing numbers of women (and men) are finding new partners as time goes on. Lots of older women find old boyfriends coming back into their lives in their sixties, seventies and eighties. Others enjoy sex or nonsexual companionship in more open relationships. Some women fall in love and remarry after years alone. Some find happiness in same-sex relationships; some remain open to that possibility but never meet the right person. There is no predicting it. You just never know.

Assuming you have a partner, and assuming that you never lost or can reclaim your sexuality, there is one final potential barrier, which is the physical ability to have sex. The fact is, if you can climb a flight of stairs, you can have sex. Maybe not athletic sex, but satisfying sex. Bad hips, weak knees and sore backs pose challenges but not insurmountable obstacles, as long as there is tenderness, affection and a good sense of humor. Vaginal dryness and pain during sex are obstacles, but ones your doctor can almost always help you with.

Illness knocks everyone's sexuality for a loop, but lust has a few billion years of evolution going for it. Very few physical disabilities actually preclude sex in the long run, but broken bones, cancer, heart attacks and obesity all deliver antisexual messages. No one feels particularly sexy during chemo, but millions of women reclaim their sexuality after strokes, mastectomies, hip replacements and long stays in rehab hospitals. While physical aging poses challenges, it very rarely imposes barriers. A sense of humor and tenderness go an awfully long way toward keeping us sexual as we age, and so does a stubborn refusal to give up on it.

The decay of sedentary living creates a subtle form of physical depression that affects your libido as much as your heart and immune system. Your sexual energy ebbs. It's sad that it's common, but it's tragic that we have come to accept it as normal. Luckily, this particular blow against sexuality can be reversed at any age. All the signals you send for growth with exercise, nutrition and connection have a sexual component; physical fitness in particular is strongly linked to libido and sexuality.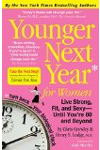 A survey of 3,005 people ages 57 to 85 found the chance of being sexually active depended as much if not more on their health and their partner's health than on their age. Women who rated their health as "very good" or "excellent" were 79% more likely to be sexually active than women who rated their health as "poor" or "fair."

And while fewer people ages 75 to 85 had sex than those 57 to 74, more than half (54%) of those who were sexually active had intercourse two or three times a month. Just remember: Sexually transmitted diseases do not discriminate based on age. If you're not in a monogamous relationship, you or your partner should use a condom.
Continue Learning about Sex and Relationships