Sex is fun! In addition, a study by scientists at Scotland's Royal Edinburgh hospital found that an active sex life contributes to both looking and feeling young. Researchers studied over 3,500 women and found that those who had sex at least three times a week appeared ten years younger than their actual age. The chief researcher, David Weeks, feels that this youthfulness is because sex increases production of growth hormone.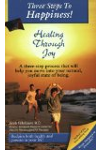 More About this Book
Three Steps to Happiness! Healing Through Joy
Happiness is our natural state of being. It is who we are. This happiness is obvious when you look at little children before they take on society's beliefs. Their natural state is to feel all of...
Sex relieves stress, boosts immunity, releases the brain's feel-good chemicals called endorphins, rejuvenates you, and increases confidence and self-esteem. In men, it also improves prostate health.
Continue Learning about Sex and Relationships