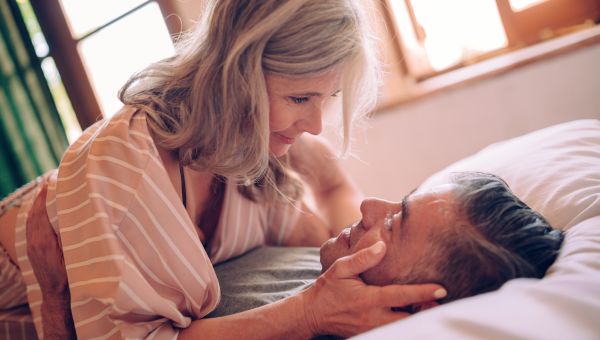 It's not just about performance—it can help your relationship, open communication and more.
Let's face it, for many couples, there are times when the fireworks may fizzle a little—or a lot. There may be relationship issues that get in the way of sex: it's hard to get the party started when one partner is angry, resentful or annoyed by the other. Maybe one flirted with a guest at a get-together, or the other feels they bear the brunt of the housework.
Perhaps between jobs and other family responsibilities they are too busy for sex and don't feel connected anymore. It may be that one partner wants sex more than the other. Past infidelity may crush the desire for intimacy. Or there may be a physical problem that derails a satisfying love life, like erectile dysfunction, premature ejaculation or a low sex drive.
These are all instances where a sex therapist may help. But what exactly does a sex therapist do? How does the therapist work with clients and what can a couple expect in terms of results?
The first thing to know is that sex therapy is, like other types of counseling, talk therapy. If you schedule a session, the office will look like a regular therapist's office, not the playroom in 50 Shades of Grey. Not only that, but the therapist will not touch you or your partner in any way, nor will he or she observe you having sex, according to Ian Kerner, PhD, a licensed marriage and family therapist and certified sexuality counselor in New York City. Dr. Kerner says that in working with couples, you can't help but get into relationship issues.
"I'm first and foremost a marriage and family therapist as much as I am a sex therapist," he say. "I'm always working with what happens outside the bedroom and what happens inside the bedroom." That's why, Kerner says, all certified sex therapists are licensed to work in other disciplines, such as psychology, clinical social work or counseling as well.
So, who needs a sex therapist?
Sex is an integral part of any intimate relationship. According to research by Michael Metz, PhD, and Barry McCarthy, PhD, published in the Journal of Sex and Marital Therapy, couples who are very satisfied with their love life say it contributes just 15 to 20 percent to their overall satisfaction in their relationship.
But when sex isn't satisfying, it has a much greater impact, contributing 50 to 70 percent of their overall satisfaction with their partner. There are a variety of reasons for sexual dissatisfaction, some emotional and some physical. Sex ruts, sexual boredom and incompatibility can quash desire for both men and women.
According to Kerner, common sexual problems for men include:
Wanting sex more frequently than their partner
Erectile dysfunction
Delayed ejaculation
Premature ejaculation
Problematic sexual behavior, such as porn addiction
Common sexual problems for women include:
Lack of arousal
Inability to orgasm
Pain during sex
Problems with sexual functioning and pleasure could be psychological or physical in nature, and sometimes a combination of the two. For example, erectile dysfunction—when the penis doesn't become or stay erect—may be caused by a medical condition, like diabetes, or a medication side effect.
According to the American Psychological Association, one of the main psychological causes of erectile dysfunction is performance anxiety. After the first incident of a man being unable to get or maintain an erection, he may become so anxious that the problem perpetuates itself.
Finding help
If you're experiencing sexual or related relationship issues, a sex therapist can help. Here's how to choose the best one for you and your partner:
Consider the therapist's credentials. Be sure that the therapist is trained in working with couples, and has experience working on sexual issues. One way to find a therapist specifically trained in sex therapy is through the American Association of Sexuality Educators, Counselors and Therapists. You might also ask your primary care physician, OBGYN or urologist for a recommendation.
Call the therapist for a brief consultation. "I always do an initial consultation on the phone to make sure I'm the right fit," says Kerner.
Ask about the therapist's approach, frequency and length of sessions, fees and schedules. "Everyone works differently," Kerner says. "I prefer to see clients every other week, and the sessions are 85 to 90 minutes." Other therapists may want to see you every week, for 45 minutes to an hour.
Schedule a first appointment. In meeting with the therapist, you should feel comfortable discussing your problems, and come away with a sense that he or she can help you. If you don't feel a connection, you'll need to try another.
Starting sex therapy
During the first session, expect to do a lot of talking about what's happening in your relationship. Kerner says there are three things he wants to learn by the end of the first session:
A detailed description of the problem.
How the problem is expressed in the couple's sex life. "There's a series of behaviors that come together to create what I call the sex script," he says. "I want to know where in the sex script the problem is happening."
The desired outcome: Kerner explains that he wants to know how the couple hopes to experience sexuality as a result of therapy.
You may have some homework to do
Many sex therapists, including Kerner, give clients homework to do between sessions. The homework is typically a weekly assignment, but it isn't necessarily one that will have you spending time in the bedroom. Instead, it's a behavioral technique that helps couples deal with any physical symptoms and/or learn new ways to be intimate and bring pleasure to each other.
"Let's say a woman finds she's not experiencing desire," Kerner says. "One assignment might be an exercise in generating arousal." For example, the couple would agree on an activity one week, like giving each other sensual massages or taking a sexy shower, for 20 minutes. If a man is distressed by experiencing premature ejaculation—that is, having an orgasm soon after intercourse begins—he and his partner would be given techniques to help him withstand stimulation for progressively longer periods of time.
Sometimes the homework may not have a physical component—you may be asked to explore thoughts or feelings on a given topic, or find verbal ways of showing affection and appreciation for each other.
How long does it take to improve your love life?
To answer that, "it depends on whether something is really enmeshed in the relationship," says Kerner. Issues like infidelity or feeling alienated or disconnected could take more time. "It's not uncommon to do a combination of sex therapy and couples therapy."
Kerner notes that for pure sex therapy, where a couple has a specific issue to resolve around sexual functioning, it could be about 6 to 10 sessions. It could take longer, depending on the therapist and the issues the couple wants to work on.
So, is addressing a sex problem worth the effort? One thing to consider: Ignoring issues can make life even more difficult in the long run, leading to a great deal of frustration and unhappiness. But learning to improve communication and overcome obstacles could lead to a richer, more fulfilling life both in and outside the bedroom, a deeper connection with your partner and even better health.