Once in kindergarten, learning really starts to blossom. Most parents are awed by the growth of their children's intellectual capacity from the time they enter the kindergarten classroom to the time they graduate from it. They learn so much in such a short period of time.

But what about after the kindergarten year?

The same connections your child made before entering school will continue to be reinforced and built upon. His growing bank of knowledge will help him form new associations, encode new information, and develop new understandings and skills. However, milestones aren't as easy to pinpoint since your child is constantly developing. That's why it's particularly important to stay active and involved in your child's intellectual development and growth throughout his school years. Help with homework when needed, keep the lines of communication open with your child's teacher, and attend PTA meetings and parent/teacher conferences.

From Good Kids, Bad Habits: The RealAge Guide to Raising Healthy Children by Jennifer Trachtenberg.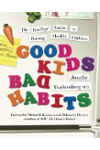 Continue Learning about School Age Child Development