Here are some tips for preventing injuries from motor vehicle crashes:
Always use seat belts, child safety seats, and booster seats that are correct for a child's age and weight.
Use safe-driving agreements or contracts with teens.
A child is at a huge risk of severe injury or even death if she is not properly restrained with a child safety seat, booster seat, or properly fitted lap/shoulder belt, depending on her age and size, every time she is in the car. Sadly, automobile accidents are the number one cause of death among children. Regular car seat, booster seat, and seat belt use is a habit to instill at a very early age.
One big problem, however, is that many well-intentioned parents unwittingly put their children at risk by not installing safety seats properly. Perhaps you've already discovered how tricky some can be. With their wide range of seat belt configurations, vehicle seat designs, and child safety seat designs, installing a car seat can be a bit complicated. In fact, the statistics on car seat misuse are worrisome; only 20 percent of families use their car seats correctly, and less than 10 percent use booster seats correctly to achieve the maximum safety for their children. Factors such as using the wrong type of car seat, using it incorrectly, or moving children out of a car seat or booster seat and into regular seat belts too early contribute to injuries during crashes.
From Good Kids, Bad Habits: The RealAge Guide to Raising Healthy Children by Jennifer Trachtenberg.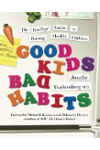 Continue Learning about Safety & Preparedness