To keep your child safe in the car, keep him or her in each phase of car seat restraint (rear facing, front facing with a five-point harness or booster) for as long as possible, which means until he or she reaches the maximum height or weight requirements as stated by the car seat manufacturer.
When your child reaches a height of 4'9" tall, he or she can be safely moved to a regular vehicle seat. Four feet nine inches is the height at which a child's legs can typically bend appropriately at the seat's edge, his or her feet can touch the floor and the vehicle seat belt appropriately crosses their shoulder and chest.
Children should remain in the back seat until age 13, when they are typically big enough to sit in the front passenger seat. Although a frontal air bag is designed to save lives, it deploys at great force and can cause severe injury or even death when a small child (especially if still in a rear-facing car seat) is placed in the front seat of the vehicle.
Consult your vehicle and car seat manual if you feel you have no choice but to put a child in the front seat with an air bag.
This content originally appeared on http://www.livehealthyaustin.com/.
To keep your child safe in a car, follow these guidelines:
The safest place for all infants and children under 13 to ride is in the back seat.
Plan ahead so that you do not have to drive with more children than can be safely restrained in the back seat.
By Utah law, all persons in all positions, 18 and under, must wear seat belts. Children under the age of 8 must be restrained in an appropriate child safety or booster seat. By Idaho law, everyone in a vehicle must wear a safety restraint.
Never allow your child to stand or kneel on a seat while the vehicle is in motion.
Riding in an open truck is always dangerous, regardless of a child's age.
Enter and exit the car on the curbside with children.
Don't lower the car windows more than half of the way down.
Never place a child in a rear-facing child safety seat in front of an air bag. If an older child must ride where an air bag is located, move the vehicle's seat back as far as possible.
A child is at a huge risk of severe injury or even death if she is not properly restrained with a child safety seat, booster seat, or properly fitted lap/shoulder belt, depending on her age and size, every time she is in the car. Sadly, automobile accidents are the number one cause of death among children. Regular car seat, booster seat, and seat belt use is a habit to instill at a very early age.
One big problem, however, is that many well-intentioned parents unwittingly put their children at risk by not installing safety seats properly. Perhaps you've already discovered how tricky some can be. With their wide range of seat belt configurations, vehicle seat designs, and child safety seat designs, installing a car seat can be a bit complicated. In fact, the statistics on car seat misuse are worrisome; only 20 percent of families use their car seats correctly, and less than 10 percent use booster seats correctly to achieve the maximum safety for their children. Factors such as using the wrong type of car seat, using it incorrectly, or moving children out of a car seat or booster seat and into regular seat belts too early contribute to injuries during crashes.
From Good Kids, Bad Habits: The RealAge Guide to Raising Healthy Children by Jennifer Trachtenberg.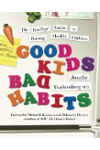 Here are some tips for preventing injuries from motor vehicle crashes:
Always use seat belts, child safety seats, and booster seats that are correct for a child's age and weight.
Use safe-driving agreements or contracts with teens.
Continue Learning about Safety & Preparedness