Your child should be supervised while using the Internet. While it offers your child access to all sorts of useful information, she can find just as much that isn't useful or appropriate for her. Instead of letting your kids use general search engines such as Google or Yahoo, try the more child-friendly ones that filter out the junk. You can get access to all sorts of databases through your public library or school website.

Despite your best intentions, it may not be feasible to personally keep watch over your child's shoulder when he is surfing the Web, especially a teenager. If you're concerned about what -- or whom -- your older child is accessing on the Internet, it may be time to install a filter on your computer that will keep your child safe and allow you to track what he is viewing. I also advise that you keep the computer out of the privacy of a child's bedroom so you can be more aware of which sites your child is visiting.

Be clear about the rules and etiquette of using the computer and Web. It may help to post a set of guidelines within sight of the computer so your child is reminded each time they sign on to surf.

From Good Kids, Bad Habits: The RealAge Guide to Raising Healthy Children by Jennifer Trachtenberg.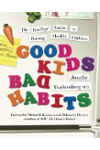 Continue Learning about Safety & Preparedness