Before allowing your child on a bike (or any set of nonmotorized wheels), teach him the rules of the road. A big part of the responsibility of owning and using wheeled toys is learning and abiding by the safety rules that apply.

By consistently reminding children of the importance of following safety precautions, and presenting a good example yourself, you can instill a sense of caution and road awareness in your children, which will help reduce risky traffic-related behavior both now and throughout their lives.

Hands down, the head is the most important body part that your kids need to protect. Although most cuts, bruises, and broken bones will heal, head injuries are often permanent and disabling. The consequences of such injuries can last a lifetime and include paralysis, severe amnesia, slurred speech, depression, anxiety, and loss of motor skills. Scary stuff.
Continue Learning about Safety & Preparedness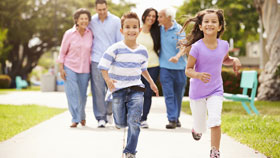 From learning how to keep household toxins away from your toddlers to feeding your family safe foods and ensuring your teens have the right sports equipment, it can be challenging to keep up with all the ways you need to keep your ...
family safe. Get tips on these and a host of other safety and preparedness issues from our experts.
More