Also in conjunction with the Cleveland Clinic comments. It's a common misconception to think age determines helmet size. Bicycle helmet size is based on head size, not age.
To ensure you are getting the right helmet size, it's important to measure a cyclist head. Using a regular tape measure, start above the eyebrow and wrap it around the head. Write down the number of inches, and bring it with you when you go to buy a helmet.
Continue Learning about Safety & Preparedness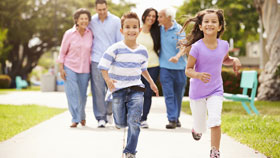 From learning how to keep household toxins away from your toddlers to feeding your family safe foods and ensuring your teens have the right sports equipment, it can be challenging to keep up with all the ways you need to keep your ...
family safe. Get tips on these and a host of other safety and preparedness issues from our experts.
More