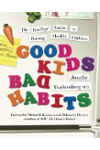 When it comes to puberty, the absolute worst thing that can happen to a child is to be uninformed. A girl who hasn't been taught about menstruation, for example, may believe there is something seriously wrong with her when it does occur. And that's just the beginning. It's an understatement to say that puberty is an overwhelming time for adolescents: Their bodies are changing and growing hair in places they've never imagined, their voices may be squeaking and growing deeper, and their skin -- well, that's a whole story of it's own!
Rather than sitting your child down to have a one-time, complete and unabridged lecture, begin at an early age to establish an ongoing dialogue about puberty. The more comfortable you seem when you discuss the subject, the more at ease he or she will feel about it, too. While books on the subject shouldn't serve as a substitute for honest communication between parent and child, reading them with your young child can help you both ease your way into further conversations. Older children, on the other hand, may be more comfortable reading about puberty on their own and coming to you with additional questions.
From Good Kids, Bad Habits: The RealAge Guide to Raising Healthy Children by Jennifer Trachtenberg.