One of the realities of being overweight is that many dieters—that is, people who know they need to and want to lose weight—are somewhat comfortable with their bodies. Yes, that body may be 20, 30, or 40 pounds heavier than the day she turned 18. But maybe she's used to post-baby weight, she enjoys Friday lunches with her friends, or she can't face a total wardrobe overhaul. It's who she is—and she's more comfortable living her life at that level than going through the struggles and hard work (not to mention the guilt and shame) of trying to shed weight.

So she has two choices: She can stay on the current hill where she's (relatively) comfortable. Or she can try to get to the top of that beautiful mountain in the distance—the ultimate destination for all of her weight-loss goals. There, on the next mountain, she'll find smaller sizes, leaf-size bikinis, likely fewer health problems, and probably an increased quality of life. Maybe that's where she'd ideally like to be.

But the problem is that there's no easy bridge from the comfort zone of the hill to the peak of the mountain. To get there, she must travel all the way down from her current comfort level, hit some rough terrain along the way, and then climb, climb, climb her way back up this seemingly insurmountable incline. So she asks: Is it worth it to go through all the hard work to reach the top of the ideal mountain, or am I comfortable enough where I'm standing right now?

That's how the dieter thinks after trying it one or two times. It's easier to stay in the current comfort level than to go through a short period of uncomfortable change by doing things like exercising, or changing menus, or going through periods or irritability and hunger. For many dieters, that path is hard to find, so they return—very quickly—back to the original hill, the original place of comfort.

So we have to build that bridge—with smart food choices and exercise. And we have to support that bridge with strategies and tactics that help us work smart, not hard. How do you do it? By getting started with small actions that lead to big changes.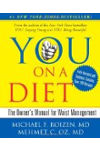 Continue Learning about Psychology of Weight Loss