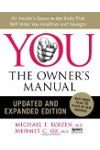 There are lots of reasons to eat: You're bored, you're at a party, your kids left 17 extra fries on the plate. The ultimate reason to eat is to provide fuel for your body-not only to keep you lean, energetic, and strong but also to feed your organs with the foods and nutrients they crave to keep your entire internal infrastructure running smoothly.

Depending on what you put into your body-as well as in what amounts and how often-eating affects how you feel and how you live. You can change the way your body works-and how you feel-with the food you eat.

However, when most people diet, they don't eat enough-and they actually slow their metabolism (which is the way your body digests food for energy). In essence, they go into a pseudo-starvation mode-the body stops burning calories as fast because it senses the need to preserve them. That's why exercise is so important. Physical activity helps keep your metabolic rate moving quickly.

In other words, exercise is what gives your body approval to burn calories. So essentially, you must exercise to keep your body from panicking and going into starvation mode.