Protein-rich diets are known to promote elimination through urine and, as such, provide a welcome purge or "drying out" for tissues gorged with water, which is a particular problem during the premenstrual cycle or during perimenopause.

This is particularly advantageous for women. When a man gains weight, it is mostly because he overeats and stores his surplus calories in the form of fat. For a woman, how she puts on weight is often more complex and bound up with water retention, which prevents diets from working properly.

At a certain time during the menstrual cycle -- in the four or five days before a period starts -- or at certain key times in a woman's life, such as puberty, perimenopause, or even in the prime of her sexual life if she has hormonal disorders -- a woman, and especially one who is overweight, begins to retain water and starts to feel spongy, bloated, and puffy faced in the morning. She is unable to remove rings from her swollen fingers, her legs feel heavy, and her ankles swell. This weight gain is reversible, but it can become chronic.

Even women who diet in order to avoid this bloating are surprised to find that during these periods of hormonal surge, all the little things that worked before no longer have any effect. In all these cases, a diet of pure proteins has a decisive and immediate effect. In a few days, sometimes even in a matter of hours, water-soaked tissues begin to dry up, leaving a feeling of well-being and lightness that shows up immediately on the scales and greatly boosts motivation.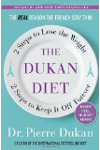 Continue Learning about Protein Body Impact