The prostate-specific antigen (PSA) blood test is one of two elements in the early diagnosis of prostate cancer. PSA is a chemical that circulates in the bloodstream and is secreted by the prostate gland. If your PSA level is elevated, it may be an indication that you have prostate cancer.
Prostate-specific antigen (PSA) is a protein produced by the cells of the prostate gland. The PSA screening test measures the level of PSA in the blood. The PSA level in the blood rises in prostate cancer but also rises due to other non-cancerous (benign) conditions. As men age, the prostate can become enlarged, called benign prostatic hyperplasia, or BPH. BPH is the most common prostate problem for men over age 50. The prostate can also become inflamed (prostatitis). The PSA test cannot tell the difference between these non-cancerous prostate changes and changes due to cancer.
PSA (Prostate Specific Antigen) is an enzyme produced by the prostate cells. A patient's PSA levels can be used to tell if he has prostate-related diseases, such as prostate cancer, using a simple blood test.
The primary way to measure prostate health (along with the digital rectal exam) is through a prostate-specific antigen (PSA) blood test. This test measures inflammation in the prostate. Contrary to popular belief, a high score doesn't automatically mean you have cancer; it simply means that your prostate is enlarged for some reason, be it cancer or something else. More important than learning the actual number is monitoring your change from year to year or every six months if the number is high, so you can see whether growth and inflammation are gradual or shoot up like a hot stock. A normal increase is less than 30 percent per year.

A PSA test is not a substitute for a rectal exam; at least 20 percent of cancers don't involve elevated PSAs, so you need both the exam and the PSA to make the best starting-point diagnosis. You and your doc should agree on a course of action you will follow if you have an abnormal reading before you get the PSA test.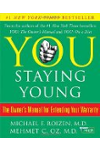 A PSA test, while controversial, helps determine whether you will develop prostate cancer, says Jayram Krishnan, DO, a urologist at Sunrise Hospital. in this video, he says that urologists continue to recommend routine PSA screening.
Continue Learning about Prostate Cancer Treatment