The most common symptom of prostate cancer is no symptom at all, says William Oh, MD, an oncologist at The Mount Sinai Medical Center. In this video, he explains why most prostate cancer patients are asymptomatic.
One of the unfortunate aspects of early prostate cancer is that normally there are no signs or symptoms at all, which is why it's sometimes referred to as "a silent cancer." The symptoms of an enlarged prostate are not related to prostate cancer; they are simply related to the benign growth of the prostate gland.
It's important to get screened regularly for prostate cancer because it typically does not cause significant symptoms until it has progressed. Symptoms include:
Trouble urinating
Stopping and starting while urinating
Decreased force in the urine stream
Blood in urine or semen
Swelling of the legs and discomfort in pelvic areas, which can be a sign the cancer has spread to the pelvic lymph nodes
Although some of these symptoms can be caused by normal prostate growth associated with aging, it's a good idea to schedule an appointment with your doctor to rule out prostate cancer if you experience any of the symptoms above.
The prostate-specific antigen (PSA) blood test is often done to screen men for prostate cancer. Because of PSA testing, most prostate cancers are now found before they cause any symptoms.
The symptoms listed below can occur with prostate cancer, usually at a late stage. These symptoms can also be caused by other prostate problems:
delayed or slowed start of urinary stream
dribbling or leakage of urine, most often after urinating
slow urinary stream
straining when urinating or not being able to empty out all of the urine
blood in the urine or semen
bone pain or tenderness, most often in the lower back and pelvic bones (only when the cancer has spread)
In most patients, prostate cancer has no symptoms. However, urinary symptoms are most common, including frequency, difficulty urinating, pain with urination, and bloody urine. If the disease becomes advanced, patients may have bone pain, most commonly in the spine, or unintentional weight loss.
Early prostate cancer causes no symptoms that are specific to cancer. If the tumor is located near the urethra or bladder, urinary symptoms similar to benign prostatic hyperplasia (BPH) may occur. These include:
need to urinate frequently, especially at night
difficulty starting to urinate or trouble holding it back
inability to urinate
weak or interrupted flow
Other symptoms could indicate more serious disease, such as an infection, more advanced BPH, or cancer. These include:
painful or burning urination
painful ejaculation
blood in the urine or semen
frequent pain or stiffness in the lower back, hips or upper thighs
Any man who has symptoms in this latter group should see his doctor to find out what is causing them. Don't wait for it to become painful to get it checked out; early prostate cancer does not cause pain.
Most men diagnosed with prostate cancer experience no symptoms and most early-stage prostate cancers are discovered during routine screening, such as a prostate-specific antigen test (PSA) or digital rectal exam (DRE).
If the tumor becomes larger, the following symptoms may appear.
Frequent urination, including the need to get up often during the night to urinate
Hesitancy in starting the flow of urine or inability to urinate (urinary retention)
Loss of force of the stream of urine
Pain or discomfort while urinating
Impotence
Pain with ejaculation
Blood in the urine or semen
Back pain or bone pain that is new and unexplained by recent injury or increased activity
Incontinence of bowel or bladder contents
These symptoms can also indicate a noncancerous condition, such as benign prostate hyperplasia (BPH). If you experience any of these symptoms, it is important to see your family physician or a urologist.
In most cases, prostate cancer symptoms are not apparent in the early stages of the disease. The symptoms of prostate cancer may be different for each man and any one of these symptoms may be caused by other conditions. As a result, routine screenings in the form of digital rectal exams (DRE) and prostate specific androgen (PSA) tests are important.
Prostate cancer may spread (metastasize) to nearby tissues or bones. If the cancer spreads to the spine, it may press on the spinal nerves. Non-urinary prostate cancer symptoms include:
Blood in urine and semen
Difficulty getting an erection (erectile dysfunction)
Painful ejaculation
Swelling in legs or pelvic area
Numbness or pain in the hips, legs or feet
Bone pain that doesn't go away, or leads to fractures
Burning or pain during urination
Loss of bladder control
Difficulty urinating
Many men with prostate cancer have no symptoms. But because the prostate gland is enlarged both in cancer and in nonmalignant conditions such as benign prostatic hyperplasia (BPH), these very different conditions share many of the same symptoms. Contact your physician if you notice any of the following signs or symptoms:
a need to urinate frequently, particularly at night
difficulty starting or stopping urination
a weak or interrupted urinary stream
an inability to urinate
pain or burning when you urinate
painful ejaculation
blood in your urine or ejaculate
frequent pain or stiffness in your lower back, hips, or upper thighs
Prostate cancer—the most common cancer among men in the United States—is located in the prostate gland, where semen production occurs. In its early stages, this type of cancer can have no symptoms, but some men do experience weak or interrupted urine flow (the urethra runs directly through the prostate gland), unusually frequent urination, difficulty starting or holding back urine, pain or burning during urination, blood in the urine or semen, inability to urinate, or painful ejaculation.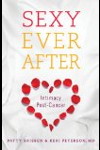 More About this Book
Sexy Ever After: Intimacy Post-Cancer
Recent studies show that 40-100 percent of men and women who have been treated for cancer have experienced some level of sexual dysfunction. Sexy Ever After: Intimacy Post-Cancer will help you reinvigorate your sex life after a cancer diagnosis and/or treatment by helping you redefine sex. Finally, the millions of men and women have been searching for answers and information about their post-cancer love lives (as well as their partners) have a resource. "Sexy Ever After: Intimacy Post-Cancer" will help you reinvigorate your sex life after a cancer diagnosis and/or treatment by helping you redefine sex. ABOUT THE AUTHORS:Patty Brisben is the CEO and founder of Pure Romance™, the nation's fastest-growing in-home direct sales company specializing in relationship enhancement products, intimacy education, and sexual health awareness. With over twenty-five years of experience working with women, she now leads tens of thousands of consultants who are touching the lives of women and couples nationwide. Through Pure Romance's Sexual Health Education Department, Patty assists women in recapturing their sensual and sexual selves following cancer diagnosis and treatment. In 2006 Patty created the Patty Brisben Foundation for Women's Sexual Health, which serves to strengthen, support, and enhance health services provided for women through education, research, and community outreach. Her notable work has put her in the national spotlight, with appearances on "The View" and CNN amongst others and profiles in leading business publications, including Forbes and Entrepreneur.Dr. Keri Peterson obtained her bachelor degree from Cornell University and received her medical degree from Mount Sinai School of Medicine. She completed post-graduate training in Internal Medicine at Mount Sinai Medical Center in New York City and is board certified in Internal Medicine. Dr. Peterson has been in private practice with a prominent medical group on the Upper East Side of Manhattan since 1999. She holds appointments at Lenox Hill Hospital and Mount Sinai Medical Center. She is a member of the American College of Physicians and the American Medical Association. With a demonstrated commitment to the advancement of medicine, Dr. Peterson has several publications in leading medical and scientific journals and has presented at distinguished medical symposiums. Dr. Peterson is a medical contributor and columnist for Women's Health Magazine and also appears frequently on the TODAY Show amongst others.
In this day and age, prostate cancer usually has no symptoms as it is found either with an elevated prostate-specific antigen (PSA) test or abnormal digital rectal exam. Advanced prostate cancer typically presents with weight loss or bone pain.
Common symptoms of prostate cancer include:
difficulty with urination
frequent urination
pain with ejaculation
blood in the urine
blood with ejaculation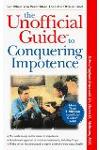 More About this Book
Unofficial Guide to Impotence
The Unofficial Guide to Conquering Impotence delivers the inside scoop on impotence: the truth about Viagra, what treatments really work, and how lifestyle changes can aid in conquering...
Symptoms of prostate cancer can include urinary problems, erectile dysfunction and pain in the back and legs. Urinary problems include any unusual change in urination pattern or habits, or the presence of blood in the urine. Symptoms may take years to manifest themselves.
If you have any of the following symptoms do not hesitate to consult your doctor. The sooner you are diagnosed, the better your chances of beating it become.
the need to urinate frequently, especially at night;
difficulty initiating urination or holding back urine;
weak urine flow;
interrupted flow of urine;
a burning sensation when urinating;
difficulty achieving an erection;
painful ejaculation;
the presence of blood in urine or semen;
persistent pain or stiffness in the lower back, hips, or upper thighs.
Early stage prostate cancer typically causes no symptoms at all, until the prostate cancer gets to its advanced stage.
In the later stage, symptoms can include:
bone pain
back pain
urinary problems
blood in the urine
At its early stages, prostate cancer is asymptomatic. But with spread of the cancer to bones or other organs, prostate cancer can cause bone pain, spinal cord compression and paralysis, fracture, loss of weight and decreased functioning.
Continue Learning about Prostate Cancer Symptoms