Donna Wicker, MD, FACOG from Spotsylvania Regional Medical Center explains the effect progesterone may have on menopause in this video.
In this video, learn how the hormone progesterone effects menopause, as it can help balance uterine lining and even brain function. Jerry Lucas, MD from Chippenham Hospital shares more!
Progesterone is a hormone produced by the ovaries in the last two weeks of the menstrual cycle after ovulation. It prepares the lining of the uterus (endometrium) so that a fertilized egg can implant in it. When ovulation stops, progesterone is no longer produced.
As the menopause transition is completed, a shift in the balance of hormones occurs and women produce much less estradiol and no progesterone from their ovaries.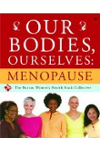 More About this Book
Our Bodies, Ourselves: Menopause
FROM THE EDITORS OF THE CLASSIC "BIBLE OF WOMEN'S HEALTH," A TRUSTWORTHY, UP-TO-DATE GUIDE TO HELP EVERY WOMAN NAVIGATE THE MENOPAUSE TRANSITION For decades, millions of women have relied on Our...