The hormone progesterone effects menopause, as it can help balance uterine lining and even brain function.
Progesterone is a hormone produced by the ovaries in the last two weeks of the menstrual cycle after ovulation. It prepares the lining of the uterus (endometrium) so that a fertilized egg can implant in it. When ovulation stops, progesterone is no longer produced.
As the menopause transition is completed, a shift in the balance of hormones occurs and women produce much less estradiol and no progesterone from their ovaries.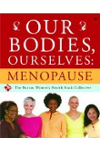 More About this Book
Our Bodies, Ourselves: Menopause
FROM THE EDITORS OF THE CLASSIC "BIBLE OF WOMEN'S HEALTH," A TRUSTWORTHY, UP-TO-DATE GUIDE TO HELP EVERY WOMAN NAVIGATE THE MENOPAUSE TRANSITION For decades, millions of women have relied on Our...
Continue Learning about Progesterone