Way back when—before we could decode your genome, use fertility tests to determine when you're ovulating, and order MRIs to see what is going on with your liver—humans learned to use beauty as a serious assessment of a partner's potential health. Back then, beauty was the best way to determine that—and in a tenth of a second, mind you.

That's why beauty became very serious business—as in, survival-of-the-species serious. When we think about survival of the species (living long enough to pass your genes on to the next generation), it's natural to emphasize the survival part of the equation. But when it comes down to a choice between surviving and breeding, breeding often wins. (Think of male grizzlies fighting to the death for a mate.) Considering the stakes, you'd better be sure that the object of your affection (that man with those magnificent abs) is worthy of the effort to attract him.

Our brains became hardwired to search for certain traits in our mate, so we soon learned to consider those traits—a certain curvy body shape, full lips, thick hair, healthy teeth, on and on—as beautiful. And, with relatively few variations since time untold, so it remains.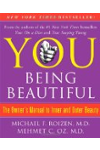 Continue Learning about Professional Beauty Treatments