Not having sex is the only sure way of not getting sexually transmitted infections, but there are some other steps you can take to protect yourself. Practice safe sex by using a condom every time you have sex. Males should use dental dams or heavy plastic when performing oral sex. Women should use condoms when performing oral sex. Limit your number of partners. Have sex with only one person.
Even after we no longer can become pregnant, we still must protect ourselves from sexually transmitted infections (STIs), also called sexually transmitted diseases (STDs). Protection is particularly important for those of us who have new or multiple partners, but even those of us who are in long-term relationships may benefit from taking precautions because they may not know the risks to which their partners are exposing them. According to the Centers for Disease Control, nearly 65 million Americans (almost one in four) are living with a lifelong STI.
Only condoms protect you against certain STIs, such as human immunodeficiency virus, HIV (the virus that causes acquired immunodeficiency syndrome, AIDS), which are transmitted by semen, vaginal secretions, and blood. Condoms may not completely safeguard against genital ulcer diseases such as genital herpes or human papillomavirus (HPV), but they do reduce your exposure as they cut down on skin-to-skin contact. Genital herpes can be transmissible even when there are no outward symptoms, so communication with your partner about your sexual histories and practices is essential for prevention. Safer-sex practices for oral sex include using a condom during oral sex with a man and using dental dams or a heavy plastic wrap placed over the vulva during oral sex with a woman.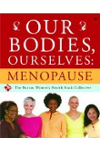 More About this Book
Our Bodies, Ourselves: Menopause
FROM THE EDITORS OF THE CLASSIC "BIBLE OF WOMEN'S HEALTH," A TRUSTWORTHY, UP-TO-DATE GUIDE TO HELP EVERY WOMAN NAVIGATE THE MENOPAUSE TRANSITION For decades, millions of women have relied on Our...
Continue Learning about Prevention Of STDs