Placental abruption is the separation of the placenta from the uterine wall before the birth of the baby. Once the placenta begins to detach from the uterine wall, the flow of oxygen and nutrients through the umbilical cord and to the baby is interrupted.
Placental abruption, a rare complication of birth, occurs in about one in one hundred pregnancies. Abruption occurs when the placenta or part of the placenta separates from the uterine wall, causing bleeding in both mother and baby. In rare cases this bleeding can be life-threatening. Giving birth quickly, often by cesarean section, helps to minimize complications.
The symptoms of abruption may include abdominal pain between contractions, extremely strong and/or frequent contractions, and bleeding from the vagina. Occasionally there are no symptoms until late in the process. Abruption can be associated with the use of drugs such as amphetamines and cocaine, severe trauma to the abdomen (such as that caused by a motor vehicle accident or physical violence), smoking, and high blood pressure in the mother.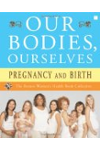 More About this Book
Our Bodies, Ourselves: Pregnancy and Birth
ALL THE INFORMATION YOU NEED TO MAKE WISE DECISIONS ABOUT YOUR PREGNANCY AND THE BIRTH OF YOUR CHILD -- FROM THE EDITORS OF THE CLASSIC "BIBLE OF WOMEN'S HEALTH" Pregnancy and birth are as ordinary...
Continue Learning about Pregnancy Complications