In the case of accidental poisoning, if time permits, contact the Poison Help Center at 1-800-222-1222. You can dial this number from anywhere in the United States, including American Samoa, Puerto Rico, U.S. Virgin Islands and Micronesia. They operate around-the-clock and can provide you with treatment options you can start before reaching the emergency room.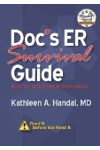 More About this Book
Doc's ER Survival Guide (DocHandal's Guides)
Few people get through life without at least one trip to the emergency room (ER), either as a patient or support person for a family member or friend. Doc's ER Survival Guide is designed to help...
If you've accidentally swallowed a poison you should not try to induce vomiting. A quick call to poison control will start getting you the right answers very quickly. They won't necessarily just send you to the emergency department. They're actually trying to help you take care of it yourself at home, but they'll give you the right advice.
Continue Learning about Poisoning