Most pesticides in use today have not been tested for their health effects on children. This is a major problem. Recent scientific studies involving laboratory animals show that many pesticides damage the developing brain and nervous system. This is a significant concern when it comes to kids because they're much more vulnerable than adults to chemicals that interfere with their rapidly developing brains and nervous systems. Behavioral problems and deficits in the ability to learn are only a few of the problems that can result from interference with the normal development of a child's brain and nervous system.

Certain types of pesticides mimic hormones. Scientists have discovered that some pesticides have the ability to mimic or compete with hormones (the chemicals in our body that trigger development and functioning). These substances may interfere with normal body development and functioning, especially of the reproductive system and the thyroid. Our body requires only minuscule amounts of these various hormones to produce the desired effects -- so if we receive too many in the form of pesticides, they may wreak havoc with our bodies. This is especially true if exposure takes place during critical windows of vulnerability early in a child's development.

Many herbicides are known, probable, or suspected carcinogens (cancer-causing chemicals). Phenoxy herbicides, for example, are members of the same chemical family as the notorious Agent Orange used widely in the Vietnam War. These herbicides can contain dioxin, a cancer-causing chemical. Studies show that one type of cancer -- non-Hodgkin's lymphoma -- is more common in farmers and in workers in factories that make herbicides that contain phenoxy. Herbicides with phenoxy in them (2,4-D, for example) are available in most garden, home, and hardware stores. Is that what your want on your lawn, where your children play and your pets romp?

Our point is that you do have lots of nontoxic options
when it comes to eliminating bugs and weeds, so why needlessly
expose your children to chemicals that may harm their
health?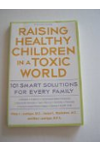 Because their bodies are still developing, children are more susceptible to pesticides than adults. In this video, Dr. Oz and pediatrician Alan Greene, MD, discuss how you can protect your kids from these chemicals on and in food.
Continue Learning about Pesticides