The Environmental Protection Agency (EPA) has identified 64 pesticides as potential cancer-causing compounds. 80 percent of our cancer risk is due to 13 pesticides that are widely used on 15 important food crops. The pesticides are linuron, permethrin, chlordimeform, zineb, captafol, captan, maneb, mancozeb, folpet, chlorothalonil, metiram, benomyl, and Ophenylphenol. These pesticides are used in many crops and animal products, but those of greatest concern, in descending order, are tomatoes, beef, potatoes, oranges, lettuce, apples, peaches, pork, wheat, soybeans, beans, carrots, chicken, corn, and grapes.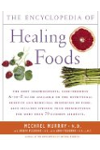 More About this Book
Encyclopedia of Healing Foods
From the bestselling authors of The Encyclopedia of Natural Medicine, the most comprehensive and practical guide available to the nutritional benefits and medicinal properties of virtually everything...
Continue Learning about Pesticides